OUTDOOR AIR QUALITY MONITOR (ISL EM2000)
The ISL EM2000 Outdoor Air Quality Monitor accurately measures parameters including Temperature, Relative Humidity and Particulate Matter (PM1, PM2.5, PM4 & PM10).

Available in either battery or mains powered options, both variants are easily deployed making the ISL EM2000 Outdoor Air Quality Monitor a straight forward, simple way of accurately accessing your environmental and air quality data.

With an MCERTS certified particulate matter sensor, the ISL EM2000 provides precise measurements of PM1, PM2.5, PM4 and PM10.
Temperature (°C)

Relative Humidity (%RH)

Particulate Matter (PM1, PM2.5, PM4 and PM10)

MCERTS certified particulate matter sensor for precise measurements

Up to 16km LoRaWAN wireless long range

Battery (4 x ER14505 3.6V Lithium AA Size) or mains powered

LoRaWAN Class A or Class C

Also available with Ozone and EPA Air Quality Index (AQI) - please inquire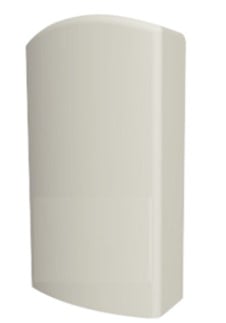 Long Battery Life
Our sensors have been designed to have a battery life of up to 10 years, so you don't have to worry about changing them frequently.

Reduce Costs
Identify problems before damage occurs to stop waste, prevent costly site shutdowns and reduce your fuel consumption.

A Proven Partner
At Invisible Systems, we've worked in IoT for over 17 years. Our solutions have a proven track record in supporting businesses.

Real-Time Online
Together with Real-time Online, the sensors enable constant monitoring, deliver pro-active alerts on threshold breaches and generate bespoke reports

Reduce Carbon Emissions
Our products have been proven to reduce carbon emissions by as much as 83% on some construction sites

Easy to Install
Choosing wireless sensors and a cloud platform enables you to reduce your installation and maintenance costs.
CONFIGURABLE THRESHOLDS
Configurable high/low thresholds allow different transmit intervals when thresholds are crossed providing advanced edge intelligence to the network, and enable alarms to be generated by Realtime-Online™.
D
ata from every sensor in your network is reported back through Invisible Systems Big Data architecture either to our Monitoring and Analytics platform Realtime-Online™, or to a partner cloud platform via our API, ensuring that your data is visible, actionable and valuable to your organisation.
LORAWAN
The ISL EM2000 is a LoRaWAN certified device and Invisible Systems are members of the LoRa alliance. It offers both ABP and OTAA activation options and is designed to work with all LoRaWAN gateways and network servers.
TECHNICAL DATA
COMMS

Expected range (line of sight): Up to 16km

LoRaWAN class: A or C

ENVIRONMENTAL

Dimensions: 120x210x56mm

Power options: Battery or mains power

Battery type: 4 x ER14505 3.6V lithium AA size

Power voltage: 3.6V

Battery life: 2+ years (depends on sampling/transmission interval)

PARTICLES

Mass concentration size: PM1, PM2.5, PM4, PM10 (µg)

Number concentration size: PM0.5, PM1, PM2.5, PM4, PM10

MCERTS: MCERTS-certified. EN 15267 compliant. Variability ≤ 5 µg/m³

TEMPERATURE

Range: -40°C to +80°C

Accuracy: ±0.1°C (typ.)

HUMIDITY

Range: 0%RH to 100%RH (non-condensing)

Accuracy: ±1.5%RH (typ.)