ENVIRONMENTAL NOISE SENSOR (ISL EM1400)
The ISL EM1400 Environmental Noise Sensor is an omni-directional acoustic sensor with wide dynamic range and stable performance. With two modes of slow and fast measurements, it can meet the requirements of a number of applications.
With built in thresholds, it can sample the noise level periodically and send alerts when noise levels exceed predetermined limits.

The ISL EM1400 Environmental Noise Sensor will find uses in a range of applications, including construction, industrial environmental noise monitoring, smart city noise monitoring, office and schools workplace monitoring and motor preventative maintenance.
Omni-directional silicon acoustic sensor

Wide dynamic range and stable performance

Wide dynamic range and stable performance

Thresholds and alarm messages

Low power consumption, with 5 – 10 years of battery operational life

Optional 5VDC power source

Integrated internal antenna, or optional external SMA/IPEX antenna

Up to 5km reach in non-line-of-sight and up to 18km line-of-sight environments

IP67 enclosure rating

Optional outdoor version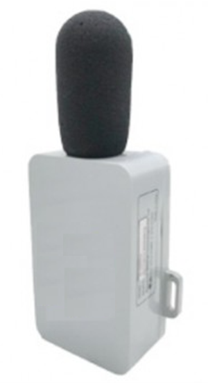 Long Battery Life
Our sensors have been designed to have a battery life of up to 10 years, so you don't have to worry about changing them frequently.

Reduce Costs
Identify problems before damage occurs to stop waste, prevent costly site shutdowns and reduce your fuel consumption.

A Proven Partner
At Invisible Systems, we've worked in IoT for over 17 years. Our solutions have a proven track record in supporting businesses.

Real-Time Online
Together with Real-time Online, the sensors enable constant monitoring, deliver pro-active alerts on threshold breaches and generate bespoke reports

Reduce Carbon Emissions
Our products have been proven to reduce carbon emissions by as much as 83% on some construction sites

Easy to Install
Choosing wireless sensors and a cloud platform enables you to reduce your installation and maintenance costs.
CONFIGURABLE THRESHOLDS
Configurable high/low thresholds allow different transmit intervals when thresholds are crossed providing advanced edge intelligence to the network, and enable alarms to be generated by Realtime-Online™.
D
ata from every sensor in your network is reported back through Invisible Systems Big Data architecture either to our Monitoring and Analytics platform Realtime-Online™, or to a partner cloud platform via our API, ensuring that your data is visible, actionable and valuable to your organisation.
LORAWAN
The ISL EM1400 is a LoRaWAN certified device and Invisible Systems are members of the LoRa alliance. It offers both ABP and OTAA activation options and is designed to work with all LoRaWAN gateways and network servers.
TECHNICAL DATA
COMMS

Frequency: EU 863 - 870MHz, Other regions available on request

LoRaWAN version: LoRaWAN 1.0.2

Antenna: Integrated internal antenna or external 1/2 wave-length whip antenna (SMA)

Expected range: Up to 18km line-of-sight

APPROVALS

Approvals: CE, FCC, IC

FCC ID: Contains module 2AO7W-WXS8000

ENVIRONMENTAL

Dimensions: 60x100x35mm

Weight: 120g

IP rating: IP67

Enclosure colour: White

Operating temperature range: -40°C to +60°C

Operating humidity range: 25%RH to 90%RH

Operating static pressure range: 65kPa to 106kPa

Power type: Battery or optional DC supply

Battery type: Replaceable 1 or 2 AA 3.6V Li-SOCI2 battery

Optional DC supply: 4.5 – 12VDC

Battery life: 5 – 10 years (assume one event per day)

SENSOR FEATURES

Range: 30dB – 120dB

Frequency: 20Hz – 12.5kHz

Resolution: ±0.5dB (reference tone, 94dB@1kHz)

Response time (fast mode): 500ms

Response time (slow mode): 1.5s

Dust cover effect: Within the range of 50~115dB, influence is 0.5dB Otherwise, influence is 0.7dB

Data: Cross-threshold message Periodic messages every 2 hours